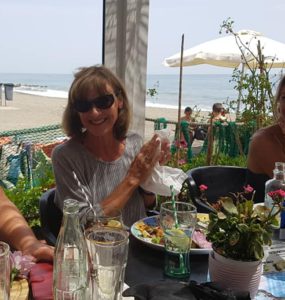 Hello to everyone and a big welcome to livingwellwithketo.com  I hope you find this site interesting, informative, encouraging and of course fun as you begin or continue with your keto journey.
MY STORY
In the winter of 2015 I found myself overweight and pulled down by a bug that I didn't seem to be able to overcome. Worse still,  my poor physical shape was dragging me down emotionally. After a particularly difficult day  I took to the internet to see if I could find some answers to my problems there. What I found that evening took me on my first few steps towards finding a better, happier and healthier way of living.
I'd never heard the word ketogenic before, let alone the idea of a keto life style, but it's no exageration to say that by following this way of eating, I changed my life. Over the following years I hunted for every piece of information I could find, and followed the advice I read, and researched all the scientific studies that tested everything I had read. As I mastered this plan  my weight went down to within the normal range, my health got better than it had been in years and best of all I went back to feeling happy and positive about my life.
WHY I WANT TO HELP PEOPLE
What I discovered was so amazing that I couldn't believe that it was not more widely known and accepted. Even today, I am still shocked by government health advisors suggesting that our diet should be based on carbs. I now know that to be completely wrong advice.
I wish I had known about the keto life style years ago. Once I was back on my feet, and feeling healthier and happier than I had in years I knew that I wanted to help other people learn all about keto too.
THE GOAL OF THIS SITE
If you are feeling tired, overweight and down with niggling health issues (or even big ones) then I hope to be able to share some of what I discovered when I was in the place you are in now.
My aim is to fill this site with information and links that will help you to understand the keto lifestyle, and to give you all the tools you need to make a sucess of your new journey.
Here I will post several times a week, on all aspects of the keto lifestyle, from the basics, to which foods to eat, links to helpful studies, recipies, calculators and much more.
Keep checking back to see what's new, and if you have anything to add or suggest, then leave a comment!
All the best for your keto journey to health,
Judy.
livingwellwithketo.com