Genetic testing has both pros and cons, and there are many factors to consider before deciding to have your DNA tested. We advise that you seek a genetic counselor who could help you to decide if this is right for you. The first question you'll be asking will be – what are the benefits of genetic testing, as well as the limitations?
You will also need to consider what you will do once you have the results. Will knowing this information be useful for you, and would it mean that you could make some healthy changes?
Here we will be looking at the value of predictive gene testing.
This sort of genetic test can be useful if you have a family member with a genetic disorder. The results of this test will help you to make more proactive choices about your health and medical care.
Once you and your medical adviser have decided that DNA testing would be a positive thing for you, there are two main choices.
You can either go directly to a medical laboratory and have your DNA tested there, or use one of the many home DNA test kits.
These kits are known as direct-to-consumer DNA tests.
When choosing the home option there a few important things to look for.
Easy to understand description of the science behind their tests and results.
The company you choose has been approved by the Food and Drug Administration (FDA). The FDA will check the clinical validity of the tests used.
Understanding the results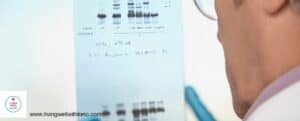 Making sense of the results is not as straightforward as many think. It may be that you will need the help of a geneticist, who will be able to take look into your medical and family history.
The type of test that was carried out will also be important.
These tests can indicate that you are of greater risk of developing a disease such as breast cancer in the future.
However, it's important to remember that if you are found to have genes that are often responsible for a particular disease, this would not necessarily mean that you will develop the disease.
On the other hand, when your results reveal that you don't have a particular gene, it may be possible that this gene was not tested for.
However, a positive result will enable you to make better informed health and diet decisions. These may help to reduce or cancel the effect of the gene on your chances of developing the target disease.
As long as you are aware of the limitations these tests can have, they can indeed provide you with some useful information.
They can add an important extra piece of knowledge to what you already know about yourself.
What can DNA test kits be used for?
DNA testing can be used to look for genetic disorders, inherited health issues, paternity issues and to find out more about your relatives and ancestry.
There are several companies which now offer an at home DNA kit. 23andme is one of the largest, and has the extra benefit of having the second most extensive data base too.
Where 23andme stands out above the competition is in the fact that it gives you a lot of very easy to understand information about your test results.
23andme was subjected to a very thorough review by the DHA and was authorized in 2015 to report on any genes that could increase your risk of a health conditions. By 2017 thy were passed to report on genetic health.
The company have two kits. One is Ancestry, the other is the Health plus Ancestry kit. For health reasons, it would be more useful to make use of the Health plus Ancestry kit.
The health kit tests for five genetic health risks such as Parkinson, certain kinds of cancer such as breast cancer.
It is also able to tell you if you are a carrier for more than 40 inherited conditions such as cystic fibrosis.
Your results are accessed online. When you log in you can also update your profile with more information about your background. Results come in a few categories: Ancestry Composition, Maternal Line, Paternal Line, and Neanderthal Ancestry,  genetic risks and wellness.
23andMe Health + Ancestry Service: Personal Genetic DNA Test Including Health Predispositions, Carrier Status, Wellness, and Trait Reports
On top of finding out new information about your genes, you will also be able to see where in the world your ancestors came from.
There is also an opt in, should you wish to trace some of those who share your DNA. This would give you a quick start to discovering your family tree.
All in all, with this kit you can gain extra knowledge about who you are. From the color of your eyes to whether or not you can match a musical pitch.
Are home DNA kits worth trying?
If you are sure that you want extra information about your genes, these tests can be very good for providing you with that extra information.
They are accurate with predictive gene testing. The FDA run very stringent tests before they will approve a testing company.
23andme are approved by the FDA, and are the company with the most easy to read and understand results.
However, there are mixed reviews of the accuracy of the information about your ancestry. Some people have claimed that their results were wildly inaccurate.
Others have complained of a lack of customer support, and a slow response to emails.

There are many direct-to-consumer products on the market, and 23andme is a kit that provides very easy to use and understand results.
They are FDA approved, so their gene testing is accurate.
Where they seem to fall down is with their information about your ancestry. There are cases where this has not been accurate, with a small but significant percentage of their customers.
The customer service appears to be patchy too, with several mentions of poor service, and late replies to email.
In my opinion, if you are seeking some knowledge about your genes, this company appears to be able to produce good results.
It would be worth viewing these results as an indication that you need to take further action. Seeking a second opinion on any results that you're worried about would be wise.
23andme is a useful tool for alerting you to the possibility that you may have a future health issue.
This will give you the opportunity to make the necessary lifestyle and diet changes that could help you to avoid the problem
The bottom line with this test is that it is a useful tool and will help you to discover more about yourself.
If you use it as such, rather than being the last word on your genetic health then the test could be both interesting and informative.
So, there are faults with this product, but it does seem to be one of the best of the "at home kits".
About 70% of customers leaving a review on Amazon gave 23andme the highest 5* rating.
Treat your results as part of your overall plan to take control of your health and you should be able to make more informed decisions about improving your health.