MCT or MCT oil has been getting a lot of attention lately, especially in the keto community. There are many praising the benefits of MCT oil for keto.
One of its most famous uses is in the keto favourite : bullet proof coffee.
It's being hailed as a great thing for your physical and mental health and for getting into ketosis quickly. But is it something you want to try for yourself?
What is MCT oil? Why are you hearing about it?
MCT stands for medium-chain triglycerides, which are fatty acids containing between 6 -12 carbon atoms.
These fatty acids are used as a supplement that can be found in both coconut oil and palm oil, although at lower concentrations than MCT oil.
MCTs account for about 65% of the total volume of coconut oil, and only a small percentage in Palm oil.
They also include some MCTs which are not as useful for ketosis such as C12, which although it is a short chain fatty acid works differently in your body.
MCT oil is a product that gets around these small percentages by putting coconut oil or palm oil through a manufacturing process that separates out the MCTs.
The resulting oil has varying mixes of these fatty acids which contain chains of carbon atoms referred to as C6, C8, C10 and C12:
C6: Caproic acid.
C8: Caprylic acid.
C10: Capric acid.
C12: Lauric acid.
These MCT's differ from the long chain triglycerides (LCT's) in that they are processed directly by the liver where they are converted quickly into ketones.
These ketones can be used as an immediate source of energy.
Although C12 is an MCT, it is processed in a different way, and it is more appropriately used for its antibacterial, antimicrobial and antiviral properties.
Coconut oil is one of the best natural products to use if you are looking for these benefits. Coconut oil contains approximately 50% C12.
C10 and C8 are the two best for converting into ketones quickly, and you should be looking for an MCT oil that contains only these two.
Try to buy an oil that is sourced from coconuts for environmental reasons, avoid anything from palm oil.
I prefer an oil with just 100% C8 as it converts to ketones faster than C10, it is the best for an energy boost and I also find it is easier on my digestive system. This pure C8 oil is the the best .
A morning dose of 1 tbsp C8 oil gives me the extra buzz and focus that I need. I feel more alert and able to apply extra clear thinking at work.
The Benefits of MCT oil used with the keto diet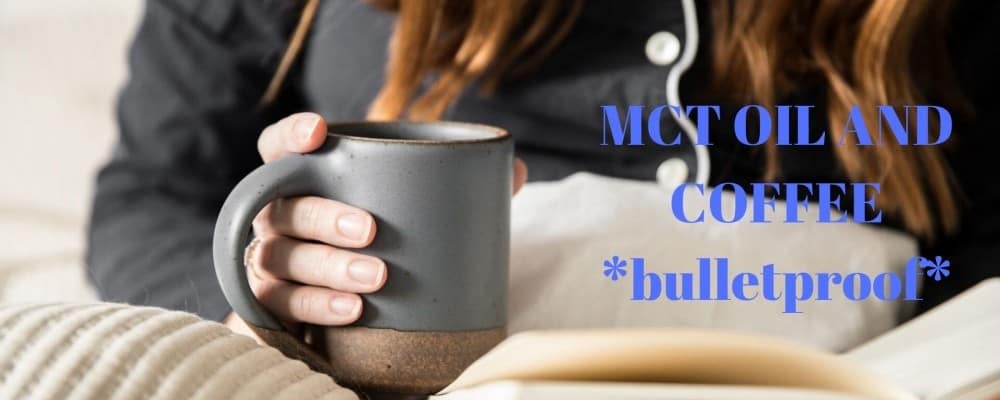 The unique property of MCT's is that they can be directly used for energy as they can be converted into ketones as soon as they reach the liver via your bloodstream.
They will give you a quick and healthy boost that is far superior to the energy drinks from the store.
Due to the fact that MCT's are processed so quickly, this minimizes the chances of them being stored as body fat.
There are several studies that demonstrate the ability of MCT's to increase the body's ability to burn fat. (1) and this study (2) also concluded that MCT helped with weight loss.
If you are already eating a ketogenic diet, then there are extra benefits in including MCT oil in your diet. As the keto diet requires a high fat intake, MCTs are a great way of reaching your fat macros.
MCT oil is tasteless and can easily be added to almost anything you're eating or drinking – hence its use in bulletproof coffee.
MCT oil can also get you into ketosis more quickly, which is obviously a main goal if you're following the keto diet.
It also has the benefit of allowing you to eat more carbs than you would otherwise be able to.
Benefits of MCT oil for losing weight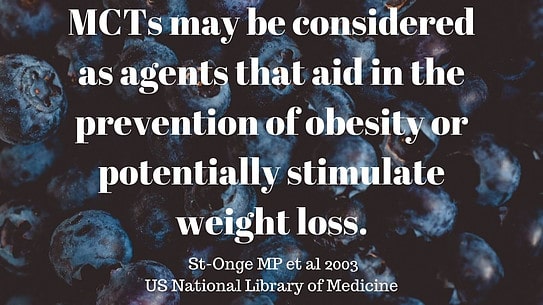 There are outstanding amounts of evidence for the fact that MCT oil helps in losing weight.
One study demonstrated the impact of MCT oil on both appetite and overall food consumption.
The study also found that MCT oil reduced fat deposition in adipose tissue. That's the subcutaneous fat just beneath the skin and visceral fat around internal organs. (1)
Another study showed that MCT oil is more effective than Coconut oil in aiding appetite control due to its more satiating properties.
However, if you're wanting to super charge your weight loss, MCT's will be more beneficial when combined with a weight loss regime.
Cognitive Benefits of MCT oil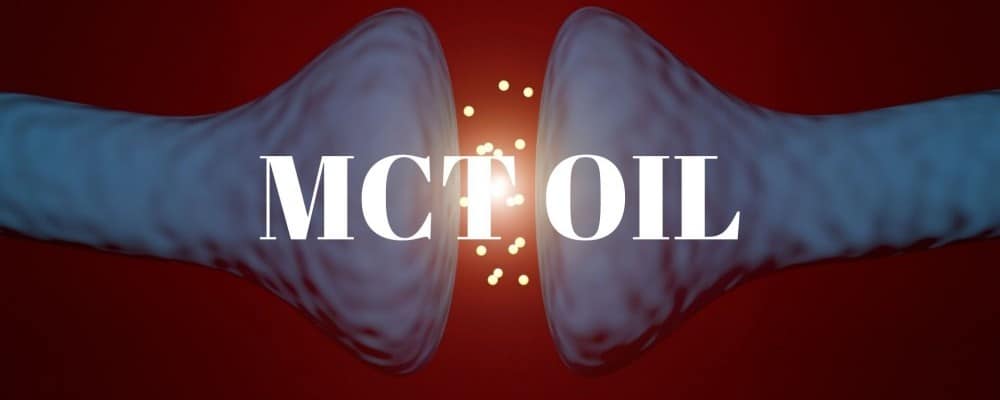 Due to the ability of MCT oil to be rapidly converted into ketones, it is able to positively change some of the processes in your brain.
It has been reported that there is an improvement in clear thinking, alertness and focus. The combination of coffee and MCT oil is especially loved by fans of the Bulletproof coffee.
When caffeine and MCT oil combine forces many people find that they experience enhanced ability to think and create.
There have been several studies that have shown that ketones which are produced through the keto diet or fasting, may be beneficial in Alzheimer Disease.
As MCT oil can get you into ketosis quicker than diet alone, it is no surprise that the oil can help with certain neurodegenerative diseases.
MCT oil has been found to have a beneficial effect on memory difficulties and cognition in people with Alzheimer.
The increase in ketones caused by the MCT oil provided Alzheimer patients with an energy source which compensated for their lack of ability to use glucose.
The MCT oil also doubled the uptake of ketones in their brains, giving them a notable improvement in cognitive function.(1)
Gut health benefits of MCT oil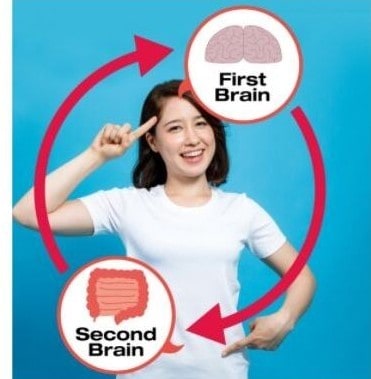 Given the connection between the brain and the gut, it is no surprise that MCT oil which benefits the brain, would also be found to benefit the gut.
MCT's have been found to improve the digestion of nutrients, which is due to its positive effect on gut strains and bacteria.
It reduces the amount of bad bacteria while at the same time supporting the growth of good bacteria.
Both C12 (Lauric acid) and C10 (Capric acid) are especially good for maintaining a healthy balance of gut bacteria. This is supported by several studies.
This study proved that MCT oil prevented the growth of the gut bacteria Clostridium difficile.
This bacteria is a major cause of hospital acquired diarrhea caused by antibiotics. There is also a significant increase in the number of cases of antibiotic resistant C. difficile.
It was found that MCT oil, especially C12 and followed by C10, was able to inhibit the growth of this bacteria.
The benefits of MCT oil are not just limited to one type of bacteria. There is also a lot of evidence that MCT oil is beneficial for destroying many harmful bacterial strains.
C10 (Capric acid) has been found to be able to treat Candida overgrowth which occurs when there is an imbalance of gut bacteria.
Candida overgrowth can cause multiple symptoms such as headache, depression, fatigue, diarrhea, bloating and vaginal yeast infections.
Forms of MCT oil

Liquid
This is the form that most people use, and the one that I use too. It's clear and tasteless so can easily be added to any food.
I don't cook with it, but pour it onto salads and other foods and use it in bulletproof coffee and hot chocolate.
When traveling, I put a small quantity of oil into a travel sized container. If you're traveling by air, or just do a lot of traveling generally you may want to try one of the powder forms of MCT instead.
Powder
This form is easier for traveling. There is less risk of an oil leak in your luggage.
It's better if you're going somewhere where you won't easily be able to control the temperature that your MCT is going to be stored in.
Powdered MCT blends well with warm drinks, and can add a very pleasing creaminess to coffee.
It's easy and convenient to use this type of MCT in baking.
There is some evidence that this form of MCT is easier on your digestive system.
Capsules
Probably the easiest to travel with, but has more limited options for use.
Capsules can be great for when you need to use the oil without food or a drink, but just want the energy boost.
In my opinion, one of the biggest drawbacks of capsules is that you have less control over the dose than with the other two methods.
However, if ease of taking the oil is your main priority then these may be for you.
How to use MCT oil
The first important fact is that you can't just open a bottle of MCT and help yourself to a tbsp.
MCT oil takes a little getting used to, and unless you want some very uncomfortable side effects, you are going to have to ease yourself in.
Your body will require an amount of time, normally up to two weeks, to begin to produce the enzyme that is needed to deal with MCT oil.
For this reason, if you are new to taking MCT oil it's best to start with a very small dose.
Ignore this advice and you may be putting in a lot of extra bathroom time as you deal with the nausea and/or diarrhea which can often occur by taking too much, too soon.
You'll be aiming to be taking 1 -2 tbsps each day for maximum benefits. Start with just half to one teaspoon per day, increasing the dose by one teaspoon on alternate days.
Cut back as soon as you notice any side effects. You should aim to be at the full dose after about two weeks.
Many manufacturers include detailed advice on how to get started with MCT oil wiyh their products. Always follow these guidelines.
Several manufactures also include a helpline if you require additional information about their product.
If you continue to have stomach upsets, you may want to try an MCT powder as this can be easier on the digestive system.
The take home message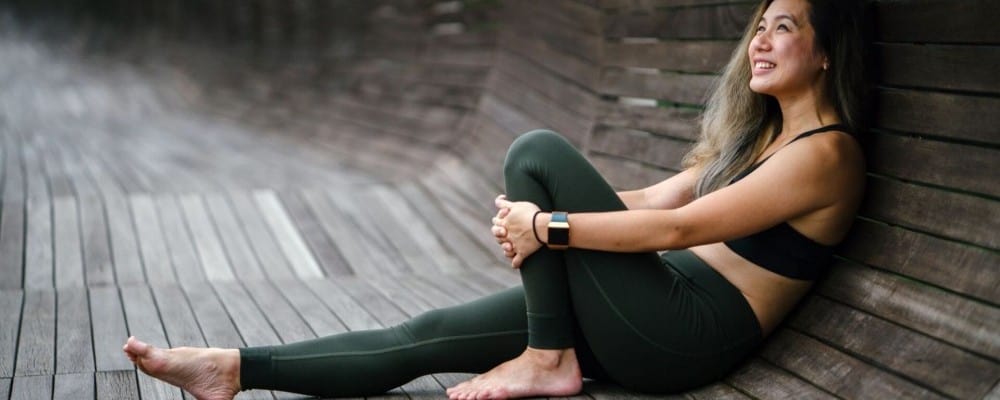 There is more than enough evidence that supplementing your diet with MCT oil can have multiple health and weight loss benefits.
MCT oil will help you get into ketosis quicker, and will enable you to consume slightly more carbohydrates than normal.
C8 (Caprylic acid) and C10 (Capric acid) are the most effective MCT's to take if you are wanting the extra brain boost. These will provide you with hours of extra focus and clear thinking.
C12 (Lauric acid) and C10 (Capric acid) will be best for you if you're looking for an MCT oil with antibacterial, antimicrobial and antiviral properties.
Given the wealth of positive evidence for MCT oil,  using a good quality MCT oil could help you to reach your health and weight loss goals sooner.
Read this best pure c8 mct oil reviews

These C8 MCT oils are all very good, and all pure C8 with nothing else added. 
Naked MCT oil pure C8
Pure MCT oil is non-GMO, organic, contains no fillers or additives, and is free of maltodextrin. It's manufactured in the USA at an FDA-regulated facility and packaged in a BPA free bottle.
Also with 100% money back guarantee.
Pure C8 Organic MCT Oil – Keto, Paleo, Brain & Heart Health – Fast, Sustainable Focus & Energy – Coffee, Shakes, Salads, Cooking – Flavorless, Non-GMO, BPA Free Bottle, 32 Fluid Oz


Keto C8 MCT oil
This is a pretty amazing C8 oil, and it's unique glass bottle makes it healthier to use too.
I loved the pump,  it really does make all the difference, no more mess and needing to use spoons.

Premium C8 MCT oil Sourced from Coconut Oil, 32 oz, Custom easy pour Bottle, Keto Friendly, Made in USA by PhD Nutrition
Ketosource Pure C8 MCT Oil
There's nothing bad to say about this oil. Pure C8 and NON-GMO, PALEO & VEGAN SAFE: This all-natural C8 MCT Oil is suitable for consumption in all diets and is completely non-allergenic. It is free of wheat, milk, eggs, peanut and shellfish and is entirely sourced from non-GMO coconut and sustainable certified palm.
When I had a question about this oil and emailed the company, they responded the same day with a very detailed reply, so great customer service too.


Premium C8 MCT Oil | Boosts Ketones 3X More Than Other MCTs | Highest Purity C8 MCT Available 99.8% | Paleo & Vegan Friendly | Gluten Free | Pure Caprylic Acid | Ketosource® (17.6oz)