There is overwhelming evidence that adding resistance training to your keto diet or intermittent fasting regime will super charge your path to your weight loss and health goals. Try the TRX All-In-One Bodyweight Resistance Training for great results.
THE TRX ALL-IN-ONE HOME GYM BUNDLE Bodyweight Resistance Training is a BEST-SELLING TRAINING SYSTEM which will help you to reach your fitness goals in the shortest time possible.
What can resistance training do for your body?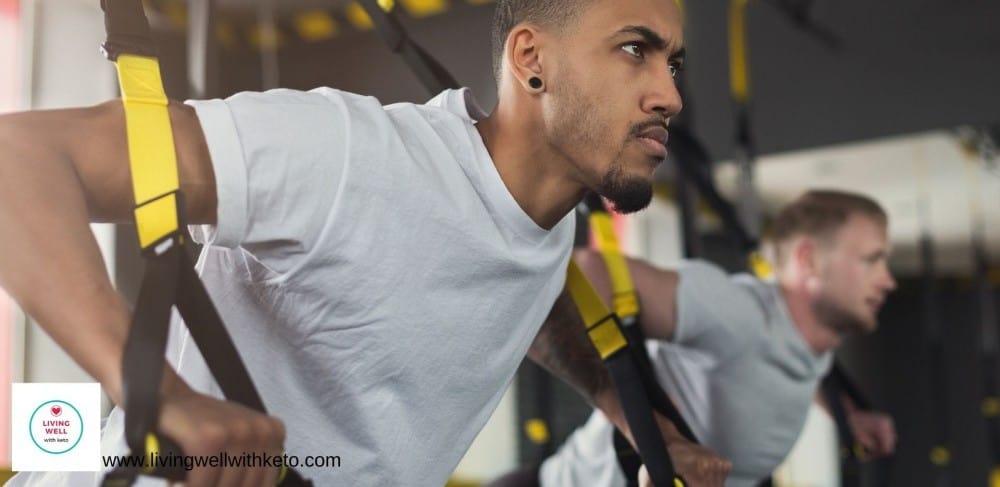 Resistance training increases muscle mass by causing your muscles to work against your weight together with a force such as weights or resistance bands.
Resistance training will also:
Build muscle strength and tone
Build muscle size
Improve bone density and strength – reduced risk of osteoporosis
Improve joints 
Improve flexibility
Improve balance
Weight management – as your muscle to fat ratio improves, your metabolic health will increase.
With regular resistance training there will also be an improvement in aerobic ability and heart and lung function.
Home workout v Gym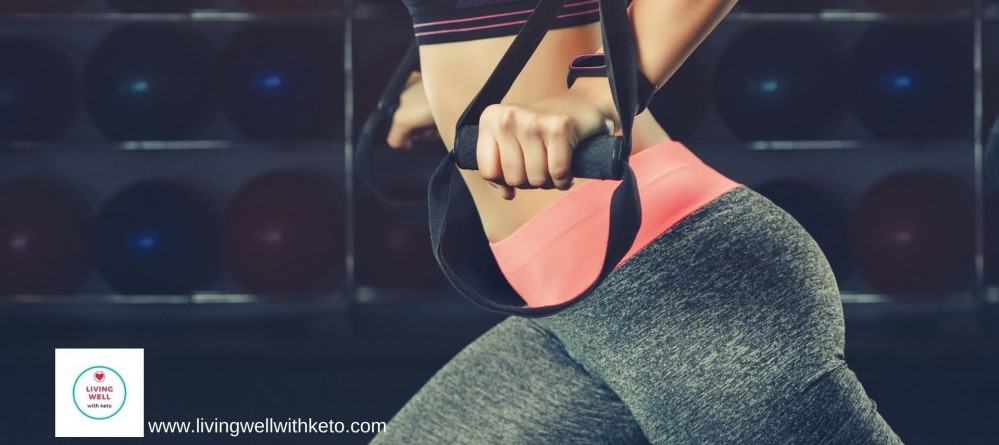 Going to the gym is great, but not everyone has the time or spare cash to do this regularly.
If your gym is a car journey away, you may like to streamline your daily exercise routine by doing your training at home.
By doing this you will be able to make the most of any spare hour or so, and get in some all important training at a time that fits in with your schedule.
This is where the TRX ALL-IN-ONE BUNDLE will fill the gap in your training needs.
If you often travel or prefer to save time by working out at home, this completely portable, lightweight resistance training kit is going to be the one for you.
The whole pack weighs in at 2lb/0.91kg, and comes in an easy to use carry bag.
This amazing exercise system will create full-body workouts for you anywhere, anytime.
It offers a huge range of exercises and comes in at a very affordable price, making it a great choice for at-home training.
There's no need to purchase a home gym, that can cost many times more. This really is a gym in a bag.
The included Digital Workouts teach you to rapidly achieve incredible results: Build Muscle, Burn Fat, Strengthen Core, Increase Endurance & Improve Flexibility to Look & Feel Your Best!
TRX All In One Home Gym Bundle: Includes All-In-One Suspension Trainer, Indoor & Outdoor Anchors, TRX XMount Wall Anchor, 4 Exercise Bands & Shaker Bottle​
This is what the TRX can do:
CREATE FULL BODY WORKOUTS: Anywhere, Anytime. Includes Suspension Training Strap, Indoor/Outdoor Anchors, 35-Page Workout Guide & 2 Bonus Workouts, PLUS a FREE 30-Day Trial on the NEW TRX App
FAST RESULTS:For ALL Skill Levels, ALL Health & Fitness Goals! Digital Workouts teach you to rapidly achieve incredible results: Build Muscle, Burn Fat, Strengthen Core, Increase Endurance & Improve Flexibility.
MOVEMENT-BASED TRAINING: Refine & Master 7 Simple Foundation Moves: Push, Pull, Plank, Squat, Lunge, Hinge & Rotate.
WORKOUT ANYWHERE: TRX easily anchors to doors, rafters or beams at home OR anywhere outdoors to trees, poles or posts. Weighing roughly 1 pound, TRX Travels Light & Fast—and has even been Safety-Tested to Support Up To 350 Pounds of Resistance.
Does it live up to the hype? This is what others are saying:
People have noticed that these are so popular at the gym that you had to wait in turn to use them.
Many others have decided to get a set for their homes, and quite often use a space in their garage to install and use.
Others have been pleased with the variety of exercises that can be done. Lunges, squats, triceps for example.
The fact that your own body weight is used means that you won't need to take heavy weights away with you. Plus, if you're someone who dislikes using weight, you can now get all the benefits without them.
Cons?
You need a secure door, and plenty of space for your workout. A hallway wouldn't give you enough room. Many people use their garage or spare room.
You will need somewhere to anchor the straps, so this will limit where you can use it especially outside. You'd need a tree or a strong post.
The other issue is with the price. We know it's a quality product, and has a great following, but it doesn't come cheap.
It's certainly many times cheaper than a home gym, but more expensive than some similar systems.
Does it work?
This method of training is an easy way to build up your muscle mass by using your body weight to create a resistance training session.
All muscle groups can be targeted, and it will improve overall strength as well as tone your whole body.
With so many exercises you will be able to train your whole body and you'll be reaching your fitness goals very quickly.
What you will gain:
This system is designed for anyone from beginner to athlete. The training can be adjusted to completely fit with your needs.
The strap adjustments take a few minutes to set to your height. The training is low impact, so there is less of a chance that you will cause an injury, or make a weak point worse.
This is a fast workout system that will help you to achieve core strength and flexibility.
You will be able to increase your strength, reach your weight loss goals and enjoy multiple health benefits at the same time.
Summary:
The TRX ALL-IN-ONE is an amazing piece of equipment. It's compact, portable and easy to set up anywhere where you have something that can act as an anchor point.
Even if you´re  no expert, the training can be adjusted to your needs.
For athletes, there is still the difficulty level that you would be looking for in a workout.
The system delivers a quick and effective resistance training, using your own body weight and gravity.
Resistance training is recommended for all ages, including older people and has been shown to have multiple health benefits as well as helping you to reach your target weight and fitness goals.

TRX All In One Home Gym Bundle: Includes All-In-One Suspension Trainer, Indoor & Outdoor Anchors, TRX XMount Wall Anchor, 4 Exercise Bands & Shaker Bottle​