If you're giving up sugar, a keto friendly sweetener such a Erythritol is the way to go. Here we take a look at Erythritol sweetener – reviews and uses to make your keto diet that little bit easier.
Out of all the different carbohydrates that are not welcome on the keto diet, sugar is usually the carb that people find the hardest to give up.
The keto diet requires that sugar, in all its forms including hidden sugars are completely avoided.
The problem is that some people don't just love sugar, they are actually addicted to it, crave it when its not available, and will cross town to get their sugar fix of choice if need be.
The reason for this is that sugar triggers the release of the brain chemical dopamine in the brains reward center.
This is the same chemical hit that occurs after taking illegal drugs.
There's a scientific reason for why many people find sugar so tempting, and struggle to stay on the keto wagon for this one reason alone.
To make things even more difficult, sugar isn't just in obvious things such as cakes and biscuits.
There is hidden sugar in just about every type of food, and in most processed meals.
Even many meat products such as salami can contain hidden sugar.
Erythritol sweetener – reviews and uses
The good news for keto dieters is that there are sugar substitutes that can hit the spot without the added carbs.
However, not all sweeteners are equal, and a few are unhealthy and should be avoided. These include:
Sucralose
Aspartame
Saccharin
Luckily, there is a sugar alternative that avoids the heath issues of most sweeteners, and hits all the right spots when it comes to taste and ease of use too.
Erythritol is a sugar alcohol and can be used anywhere that would normally require the use of a regular sugar.
Due to the fact that it has no effect on blood sugar or blood/glucose levels, this is a sweetener that is both healthy and keto friendly.
There is good reason that Erythritol is so popular with low carb dieters.
It can be sprinkled on food, used in baking and has a great sugar taste, without the bitterness of some products. It is also a zero calorie substitute.


There are now several brands of Erythritol on the market, and I've reviewed some of the best:
So Nourished Erythritol
This is a fantastic sweetener, and there really isn't anything bad to say about it.
The taste is sugary and not bitter at all. I love the slight crunchiness it leaves on strawberries due to its grainy sugar-like texture.
It can be used in baking and in sauces too.
You do need to curl up the top of the bag and add a peg to keep it fresh, or tip into a container.
Erythritol Sweetener Granular (1 lb / 16 oz) – Perfect for Diabetics and Low Carb Dieters – No Calorie Sweetener, Non-GMO, Natural Sugar Substitute
Here´s what the company says:
ZERO CALORIE & ZERO CARB – Natural sweetener that tastes and bakes like sugar

NO BITTER AFTERTASTE – This erythritol is not only healthier than sugar, it also has almost no aftertaste. In a blind taste test you might mistake it for sugar.

100% MONEY BACK GUARANTEE! We stand behind our granulated erythritol 100%. If for any reason you decide our erythritol isn't for you, email us & we'll refund you 100% of your money, no questions asked.

GLUTEN-FREE, VEGAN, NON-GMO & TOOTH-FRIENDLY!

ZERO GLYCEMIC IMPACT – Suitable for Diabetics & Low Carb Dieters
Halefresh Natural Sweetener Erythritol
This is another great tasting erythritol. A good all rounder in the kitchen and can be used straight into hot drinks or with your baking.

Erythritol Sweetener Natural Sugar Substitute 3lb – Granulated Low Calorie Sweetener High Digestive Tolerance Suitable for Diabetes Keto and Paleo – Baking Substitute Non GMO
This is what the company says:
ZERO CALORIES – Erythritol sweetener tastes and bakes like sugar while promoting healthy weight management that is why it is a perfect substitutes while baking sugarfree. Easily substitute Erythritol 1:1 in recipes in place of sugar.

PERFECT FOR KETO – HaleFresh's pure Erythritol Has Highest Digestive Tolerance Compared To Other Artificial Polyol Sweeteners.

GREAT FOR DIABETICS – HaleFresh Erythritol does not raise blood glucose or insulin levels which makes it the ideal source for your sweetened needs

NO AFTERTASTE – Our Erythritol Sweetener is the perfect sugarless substitute to add to your food or drink. There is no bitter aftertaste associated with other sweeteners like stevia and monk fruit

NON-GMO and Verified GLUTEN FREE – Each blend of HaleFresh's Erythritol granular sweetner is batch tested to ensure only the highest quality of Erythritol is used. Each batch is kosher certified as well
 Anthony's Natural Erythritol Sweetener
This is another great tasting product, and it has the added advantage in coming in a bulk sized 5lb/2.2kg packet.
If you're a big fan of Erythritol you'll find this is a very affordable way of getting your sweet fix.
It also comes in a resealable pack.

Anthony's Erythritol Granules, 5lbs, Non GMO, Natural Sweetener, Keto & Paleo Friendly
If 5lb/2.2kg is too large for you this also comes in a 2.5lb/-13kg bag

Anthony's Erythritol Granules, 2.5lbs, Non GMO, Natural Sweetener, Keto & Paleo Friendly
Here's what the company says:
Premium Natural Erythritol Granular Natural Sweetener

70% as Sweet as Table Sugar with Zero Calories

Batch tested and verified gluten-free and Sulphur Dioxide Free

Not Genetically Modified & Contains no genetically modified proteins.

5lb bag of Erythritol Granules in Resealable Bag
Swerve Bakers Bundle Granular and Confectioners
Very popular, and I can see why.  To make the taste even more smooth, Swerve have teamed Erythritol with oligosaccharides.
Oligosaccharides are carbs which are formed when three to 10 simple sugars are linked. It´s a naturally occuring substance found in Jerusalem Artichokes, onions, leeks and chicory root.
So this product is 100% natural.

Swerve Sweetener, Bakers Bundle, Granular and Confectioners, 12 Ounce, pack of 2
Here's what the company says:
BAKE & FROST YOUR CAKE: Have your sugar replacement pantry staples with a bag of Granular for replacing white table sugar and a bag of Confectioners for replacing powdered sugar.

TASTES AMAZING: Swerve is sweet and delicious. It is a natural sugar replacement that doesn't have the bitter aftertaste associated with other sweeteners like stevia and monkfruit.

MEASURES LIKE SUGAR: If your recipe calls for a cup of sugar, simply replace with a cup of Swerve. Since it measures just like sugar, using Swerve in your favorite recipes will be a breeze.

ZERO NET CARBS: The ingredients in Swerve don't affect blood sugar, so the carbohydrates it contains are considered non-impact.

NON-GMO VERIFIED: Only the highest quality ingredients are used. The Ingredients in Swerve come from Europe and North America – there are no ingredients from China.
Also in 3lb/1.36kg bags Granular and Confectioners
Swerve Granular Sweetener (48 oz): The Ultimate Sugar Replacement

Swerve Confectioners Sweetener (48 oz): The Ultimate Sugar Replacement
So Nourished Monk Fruit Erythritol Blend
I love the taste of Erythritol, but if you'd like to try something slightly different this is a good choice too.
This has been blended with Monk fruit, which is a natural ingredient.
 Powdered Monk Fruit Sweetener with Erythritol Confectioners (1 lb / 16 oz) – Perfect for Diabetics & Low Carb Dieters – 1:1 Sugar Replacement – No Calorie Sweetener, Non-GMO, Natural Sugar Substitute


What is Erythritol?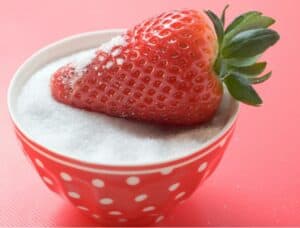 Erythritol is a sugar alcohol, but although the name would suggest otherwise, it contains neither sugar nor alcohol.
Erythritol is approved by the FDA and is completely safe and free from side effects, although some diarrhea has been a problem at very high doses.
In fact, its a naturally occurring product and can be found in many fermenting foods such as grapes, wine and watermelons.
Erythritol is not digested by the body, and also tends to be easier on the gastrointestinal tract than many other sweeteners. This is because bacteria find it difficult to metabolize. This is also the reason why Erythritol does not cause tooth decay.
Benefits of Erythritol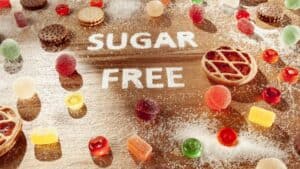 The biggest benefit of Erythritol from a keto dieters point of view is the fact it is calorie free.
Don't be fooled by a calorie count on the packet. Due to the fact we lack the enzyme needed to metabolize it you can discount these calories.
Erythritol has no effect on blood/glucose levels which is also a big plus for followers of keto living.
This is especially good news for diabetics or people who are finding that they struggle with hunger and weight loss.
Its good news for your heart health too, and this study showed that by taking Erythritol regularly there was a positive effect on blood vessels.
The researchers stated:
Erythritol consumption acutely improved small vessel endothelial function, and chronic treatment reduced central aortic stiffness. Erythritol may be a preferred sugar substitute for patients with diabetes mellitus.


The take home message
In my opinion Erythritol bridges that gap between the sugar we don't want to consume due to its carb count and the sweeteners that we don't want to eat due to the health concerns.
Erythritol is a great way of getting your sweet fix without having to compromise your health goals.
The fact that it is a natural non GMO product makes it all the better.
I don't see any reason why not to choose Erythritol over sugar even it you're not eating low carb.
It has all the taste and functionablity of sugar and none of the adverse health effects.
With so many healthy products on the market now, there really is no reason to still be using sugar and/or the unhealthy artificial sweeteners of old.