Are you wondering which are the best turmeric capsules: Improve your health, decrease dangerous inflammation and improve the health of your joints by taking the best rated supplements.
You may be wanting to minimize the many negative health effects of not dealing with inflammation. If so, this information is going to be vital for you.
Not all turmeric supplements are equal, and you want to make sure you're paying for the best turmeric Capsules that you can get your hands on.
Turmeric is super popular and with good reason.
It's an anti-inflammatory and anti-oxidant.
It can help to protect you from the numerous health issues cause by untreated inflammation.
Turmeric dramatically increases the antioxidant capacity of the body.
Curcumin (the active compound in Turmeric) is a natural anti-inflammatory Compound. It plays a major role in joint pain, heart health, certain cancers and more.
Curcumin boosts brain-derived neurotrophic factor. This is linked to improved brain function and a lower risk of neurodegenerative diseases such as Alzheimer's disease.
Curcumin leads to many improvements that should lower your risk of heart disease.
Arthritis also responds very well to curcumin supplementation. Studies show that curcumin has incredible benefits against depression.
Curcumin may also help delay aging and fight age-related chronic diseases
Turmeric (curcumin) has many amazing benefits due to its ability to reduce inflammation.
If you're not sure why inflammation is a bad thing read this : What is inflammation in the body
8 Amazing Benefits of Turmeric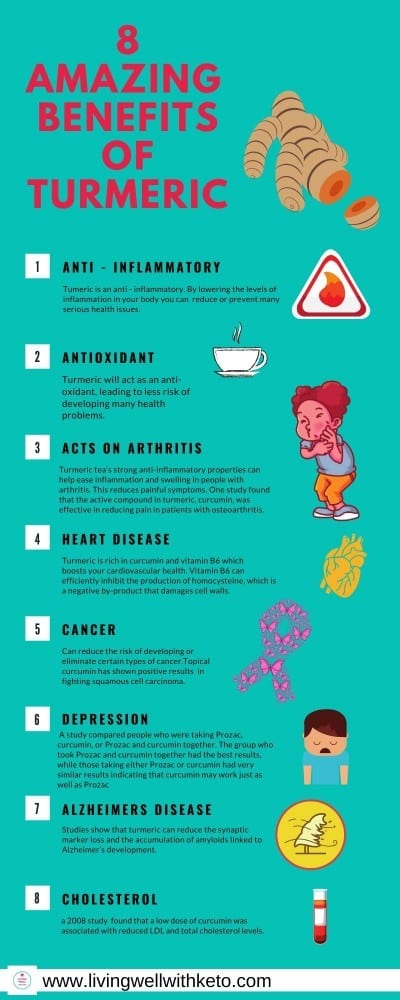 Best Turmeric capsules and how they will improve your health
*All the turmeric capsule supplements reviewed here are 100% Organic and GMO free. They contain bioperine (black pepper fruit extract) to aid absorption*
All supplements need to contain bioperine. Bioperine will maximize your ability absorb the curcumin.
The amount of Turmeric Root Powder used is also important. Turmeric Root Powder contains very small amount of Curcuminoids.
For a supplement to be effective you'll need at least 1000mg of 95% curcuminoids per day.
Check the label. Anything less and you may not achieve the health benefits you're looking for.
There's a reason that some supplements are cheap – they don't contain the right ingredients (or enough of them) and they won't work!
---
NatureWise Curcumin Turmeric 2250mg
This goes above and beyond what is needed in a turmeric supplement. We love the purity of this product.
This has 750mg of organic curcumin in each capsule. This means that just three capsules per day will give you 2250mg of curcumin.
We haven't seen this amount in any other product.
The addition of organic ginger is a nice extra. This further aids absorption and bio availability.
Gluten-free, vegan and non-GMO. Manufactured in the USA, with each batch tested for safety and purity.
---
Premium Ultra Pure Turmeric Curcumin 1500mg
This supplement has 1,350mg of turmeric,(Curcuma Longa root.) It also has 150mg of turmeric extract, which is 95% standardized curcuminoid.
This gives you a great amount of regular curcumin plus the highest potency curcuminoid.
The 10mg of Bioperine will make sure that your body can actually access all this goodness.
We are very impressed with this product, there's not anything negative to say.
ALL NATURAL, NON-GMO, NO FILLERS, BINDERS OR PRESERVATIVES and has better absorption compared to common turmeric teas.
FREE Of soy, gluten, milk, egg, wheat, GMOs, peanuts, sweeteners, shellfish and sugar.
No wonder the company is happy to offer a 100% money back guarantee.
---
Turmeric Curcumin with Bioperine –  Me First Living
This supplement contains 1000mg of 95% curcuminoids, much more than many of the other turmeric supplements.
10g of Bioperine to increase absorption up to 2000%
We like the fact that this supplement has leucine in it as well.
Leucine is an essential amino acid helps with the biosynthesis of proteins.
This is an extra that is not in many turmeric supplements and is a big plus.
Organic, gluten free, vegan friendly, non GMO. Manufactured in the USA.
With their 100% money back guarantee this company is confident that you're going to love this supplement.
---
Purity Labs Organic Turmeric Curcumin Supplement
This is a great product and we like the fact that it contains 1000mg of 95% standardized curcuminoids, plus the important 10mg of black pepper for higher absorption.
It's an all natural product with no fillers, non GMO and free of preservative, soy, lactose, gluten, sugars, transfats, sodium and magnesium stearate.
There is no doubting that this is a pure product. If you are still having doubts, this product is also tested by a 3rd party for purity.
100% 365 DAY MONEY BACK GUARANTEE – FEEL GREAT OR YOUR MONEY BACK
Great price for a high quality turmeric supplement.
---
Turmeric Curcumin Supplement – BioPerine
This is a softgel, but still earns its place on this list with its impressive 1500mg of 95% Curcuminoids.
We were pleased to see that it contains a bonus of Ginger which is a nice addition.
There is the Bioperine for absorption and bio availability and Extra Virgin Organic Coconut to help with absorption too.
This product is packaged with 60 or 120 capsules and has a re-order option.
Non GMO and without preservatives, fillers, artificial coloring, soy or stearates.
There is a 90 day no-questions-asked full 100% money back guarantee. This company offers you the opportunity to view their certificate of ingredients.
---
#1 Turmeric Curcumin with Ginger and Bioperine . Dr Matthew
This is another supplement with a great 750mg of 95% standardized curcuminoids.
It also contains both Bioperine and Ginger, to get maximum bio availability and absorption.
This product is Vegan friendly, all natural and GMO free.
The company offer discount of bulk orders which is a nice touch.
This is a top quality product with the right amount of curcumin that can actually make a difference.
---
Knowing which are the best turmeric capsules and how they will impove your health will give your efforts a great boost. You should be able to feel the many health benefits within the first few months.