You're enjoying your keto diet and all is going well. However, if you're like the rest of us, from time to time you feel like some quick keto snacks to get you through to the next meal.
However, you don't always want to spend more than a few minutes making something.
This is where having a supply of your favorite quick keto snacks is going to help you.
Having some of these ready-made, or very quickly made snacks is going to save you from the chance of reaching for something not so low carb to fill the gap.
Often you feel like a snack when you're bored or thirsty. Make sure you are really hungry. It's always better to avoid snacking if you can.
I've put together some of my favourite snacks which should give you some inspiration for when the next meal is just too far away.
Most are no bake and always good to have in your store cupboard. Others will require only a few minutes in the kitchen, and are quick and convenient to make from scratch when the urge for a snack hits.
---
The first quick and easy snack has to be nuts, but be careful with these. They are very easy to eat, and you can eat too many without realizing it. Either plan ahead and put snack size amounts in small bags, or remember how many nuts of the types you enjoy you can eat and still stay within your macros.
Weigh the nuts before snacking, don't guess. These are healthy but can slow down your weight loss if this is one of your keto goals.
Pecan nuts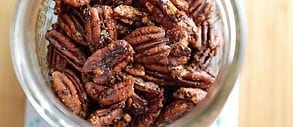 A serving size of 20 halves
3.9g carbs
20.4g fat
2.6g protein
196 calories
Brazil Nuts

A serving size of 1oz/28g

3.48g carbs
18.83g fat
4.06g protein
186 calories
Macadamia nuts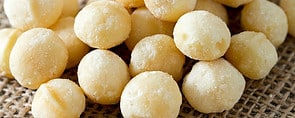 A serving size of 1oz/28g

3.92g carbs
21.48g fat
2.24g protein
204 calories
Walnuts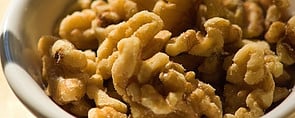 A serving size of 1oz/28g

3.89g carbs
18.49g fat
4.32g protein
185 calories
Hazel nuts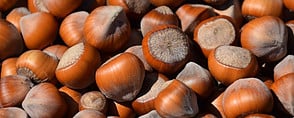 A serving size of 1oz/28g

4.7g carbs
17g fat
4.2g protein
178 calories
Almonds

A serving size of 1oz/28g

5.47g carbs
14.98g fat
6.26g protein
169 calories
---
When you want to buy something ready made:
These are definitely worth having for the occasional treat, tasty and crunchy and  only 1-2g carbs per serving. 


HighKey Snacks Keto Mini Cookies – Chocolate Chip, Pack of 3, 2.25oz Bags – Keto Friendly, Gluten Free, Low Carb, Healthy Snack – Sweet, Diet Friendly Dessert – Ketogenic Food with Natural Ingredients


Vegetables
These are obviously a good choice of snack, and for those who want to loose weight, they are also low in calories. Some of the best for filling that need-to-snack moment are:
Olives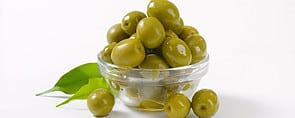 A serving size of 1oz/28g

1.53g carbs
3.2g fat
0.26g protein
33 calories
Avocado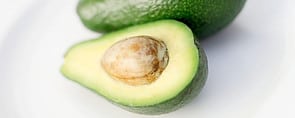 A serving size of half a medium avocado

6g carbs
12g fat
1g protein
130 calories
Celery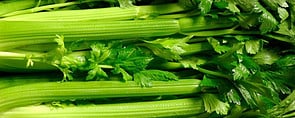 A serving size of 1 medium stalk. Not as filling as Avocado or olives, but you can add cheese or a cheese dip.
1.19g carbs
0.07g fat
0.28g protein
6 calories
---
Hard boiled eggs are easy to keep in the fridge and make a great nutritious snack. Make a few in advance so that you have something to grab when you're hungry. Easy to take to work with you. Add mayo or cheese for extra taste.
Hard boiled egg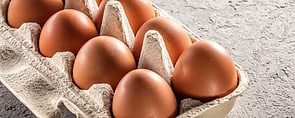 A serving size of 1 medium hard-boiled egg

0.34g carbs
4.37g fat
5.54g protein
65 calories
---
Dairy
There are many dairy products that make great keto snacks. These are often heavy on the calories, but are great for reaching your fat percentage. Choose harder cheeses where possible, as these tend to be lower carb. Cream is good, but avoid milk.
Full fat Laughing Cow cheese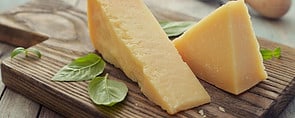 A serving size of two triangles
2g carbs
6g fat
3g protein
70 calories
Goat Cheese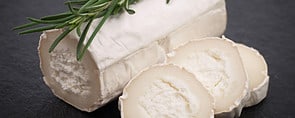 A serving size of 28g/1oz

0.52g carbs
8.08g fat
6.59g protein
101 calories
Brie

A serving size of 28g/1oz

0.13g carbs
7.85g fat
5.88g protein
95 calories
Edam or Gouda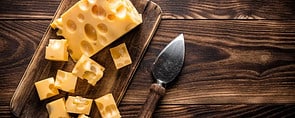 A serving size of 28g/1oz

0.47 carbs
7.85 fat
7.08 protein
101 calories
Mozzarella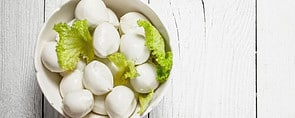 A serving size of 28g/1oz

1.09g carbs
5.68g fat
7.36g protein
86 calories
Cheddar cheese Chips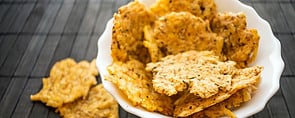 A serving size of 28g/1oz
The easiest way to make Cheddar Cheese chips: Simply sprinkle thin slices of cheese on parchment paper and bake in a preheated 200c/400f oven. Often Check to make sure they're not burning. Once they are golden and crispy, remove and cool to harden. I have also had success with placing slices onto a plate and into the microwave for a minute or two. You do need to keep checking.
0.36g carbs
9.4g fat
7.06g protein
114 calories
Cream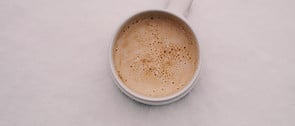 Add to coffee for a low carb treat. Serving size

1 tbsp cream.
0.42g carbs
5.55g fat
0.31g protein
52 calories
Bullet Proof Coffee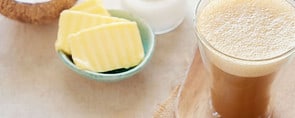 This is a favourite with keto dieters. Made with 20g/12oz coffee,
1 tbsp MCT oil, 2tbsp grass fed butter. Heavy on the calories but will keep you feeling alert and full for hours.
0g carbs
36g fat
1g protein
320 calories
---
These deserve a category all to themselves! They do require a tiny bit of kitchen time, but you'll love the result.
Jalapeño Bacon wraps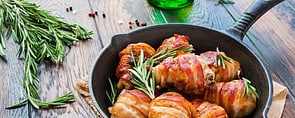 A serving size of 4 whole jalapeños

3g carbs
18g fat
10g protein
225 calories
16 fresh jalapeños
16 strips bacon
115g/4 oz cream cheese
28g/1oz grated cheddar cheese
1 tsp salt
1 tsp paprika
Preheat oven to 180c/ 350° F
Slice the bacon in half (in to 16 half length pieces).
Slice the ends off each jalapeño. Slice each jalapeño in half length-wise. Remove seeds and membranes with a knife. Make sure you use gloves!
Mix the cream cheese and cheddar cheese together in a bowl.
Fill each jalapeño half with the cheese mix and wrap in the bacon
Place them on a foil lined baking sheet.
Bake for 20-25 minutes until golden brown.
Asparagus Bacon Wraps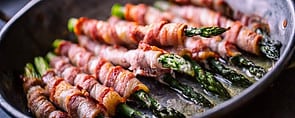 A serving size of 1 bundle
0g carbs
4g fat
3g protein
46 calories
36 asparagus spears
12 slices bacon
1 tablespoon olive oil
Salt & Pepper to taste
Preheat oven to 220C/425 F and line a baking sheet with parchment paper.
Wrap bundles of 3 asparagus spears with a single slice of bacon. Place on prepared baking sheet.
Drizzle with olive oil and sprinkle on salt and pepper to taste. Bake for 20-25 minutes until bacon is crispy
---
Meat and fish
All meat and fish can be eaten in a small amount as a snack. Pack a snack sized amount for work, or ready to eat in between meals. Some favourite snacks:
Pork rinds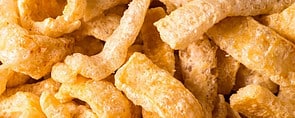 A serving size of 14g/0.5oz
0g carbs
5g fat
8g protein
80 calories
Jerky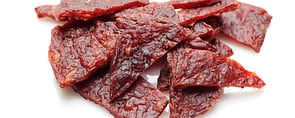 A serving size of 28g/1oz. Always check the carbs if buying as these can vary between makes.
2g carbs
1g fat
12g protein
60 calories
Pepperoni slices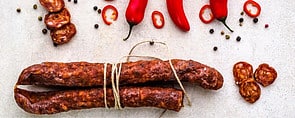 A serving size of 28g/1oz
0g carbs
14g fat
5g protein
150 calories
There are many ready made meaty snacks on the market. Try these for a special treat:
Keto sugar free Beef Snacks
Keto Sugar Free Grass-Fed Beef Snacks Sticks Non-GMO Gluten Free MSG Free Nitrate Nitrite Free Paleo Healthy Natural Meat Sticks Beef Jerky


Prosciutto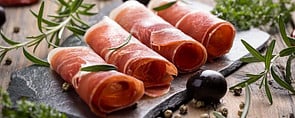 A serving size of 28g/1oz
0.09g carbs
2.36g fat
7.88g protein
55 calories
Chicken wings
A serving size of 1 medium wing with skin. These need to be roasted without any added sauce or coating.
0g carbs
6.18g fat
8.52g protein
92 calories
Roast Chicken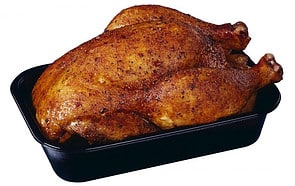 A serving size of 115g/4oz roast chicken with skin, bone removed.
0g carbs
17.97g fat
19.44 protein
245 calories
Salami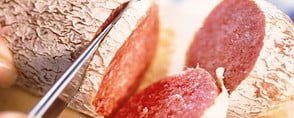 A serving size of 28g/1oz
0.64g carbs
5.7g fat
3.95g protein
71 calories
Sardines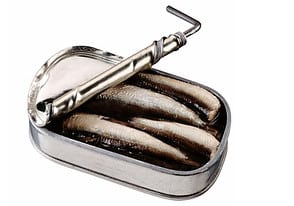 A serving size of 1 small can 90g/3.75oz . I know these aren't top of everybody's list as a snack, but if you enjoy the taste, these fatty fish are packed with healthy oil, vitamins (especially B12), minerals and a big dose of Protein too.
0g carbs
10.5g fat
22.7 protein
192 calories
Smoked salmon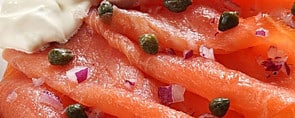 A serving size of 100g/3.5oz. Smoked salmon is not only delicious on its own, but is a keto power house of nutrients including omega 3 fatty acids. Fantastically versatile, you can enjoy this wrapped around cheese or with mayo for that extra tangy bite.
0g carbs
4.32g fat
18.28g protein
117 calories.
---
Sweet keto snacks
Strawberries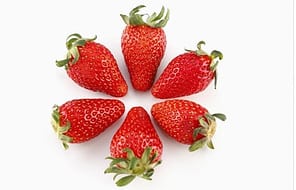 A serving size of 28g/1oz These are one of the few types of fruit that you can eat on the keto diet. Choose a few but be careful as their carb count will soon add up. Enjoy them with some cream or a sweetener. I'm a big fan of Erythritol – carb free and leaves a nice crunchy texture on the strawberries too.
2.18g carbs
0.09g fat
0.19g protein
9 calories
92% cocoa Dark Chocolate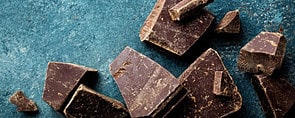 A serving size of 3 pieces 34g/1.2oz If you've got the will power to stop at a square or two then these will hit the spot for you. If it's going to trigger a sugar crave then you're probably best off by leaving these alone.
10g carbs
20g fat
3g protein
190 calories
Hot Chocolate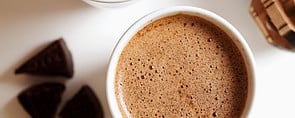 A serving size of 1 cup. There are dozens of recipes for keto hot chocolate, but I favour the ones that cut out any variety of milk and substitute water and butter. This cuts down the carbs, but you still end up with a nice creamy tasting hot drink. If even more creamy is your thing, you can add a tbsp of heavy cream too.
1g carbs
23g fat
1g protein
216 calories
28g/1oz unsalted butter
1 tbsp unsweetened cocoa powder
1 tbsp (or to taste) Erythritol
1 cup of boiling water
Place all the ingredients into a tall container and blend with a stick blender for 20-30 seconds until there is a nice amount of foam. This needs to be enjoyed straight away.
Chocolate Chia Pudding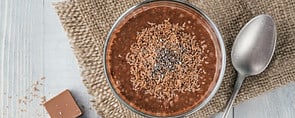 Makes one serving
4.5g carbs
23g fat
8.6g protein
286 calories
4 tbsp (32 g/ 1.1 oz) whole chia seeds
60ml/2oz coconut milk or heavy whipping cream
60ml/2oz water or unsweetened almond milk
1 tbsp raw cacao powder
1 tbsp (or to taste) Erythritol
Mix all the ingredients together with a blender. If you want a smooth texture grind the chia seeds first. Let sit for 15 minutes, or overnight if you can wait that long!
Keto Avocado Chocolate Pudding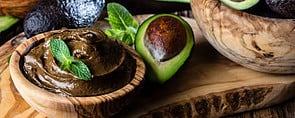 Makes 1 serving I know, you're doubtful. I was too, but by adjusting the sweetener to taste, I had a very quick pudding on my hands which hit the spot. Don't let the carbs frighten you away. Due to the high fiber count of 18g, the carb count of 24g comes all the way down to 6g.
6g carbs
23g fat
7g protein
284 calories
50g/1.8oz Unsweetened Cocoa Powder
1 medium avocado
1-3 tbsps Erythritol (to taste)
1/2 tsp vanilla extract
Spoon out the avocado and place in a mixing bowl.
Add cocoa powder, erythritol, and vanilla extract and mix with a fork or blender until a smooth pudding is formed.
And for when you're looking for something delicious and ready to eat AKA Keto made super easy!
 Keto Mini Cookies
KETO & LOW CARB FRIENDLY: HighKey Snacks Keto Mini Cookies are a diet-friendly snack made with wholesome ingredients for a sweet treat. Low in net carbs and sugar, these mini cookies are made with natural ingredients like almond flour, coconut oil, and collagen. Perfect for ketogenic dieters.
HighKey Snacks Keto Mini Cookies – Chocolate Chip, Pack of 3, 2.25oz Bags – Keto Friendly, Gluten Free, Low Carb, Healthy Snack – Sweet, Diet Friendly Dessert – Ketogenic Food with Natural Ingredients


Fruity Gummy Bears
SAMPLE ALL THE FLAVORS – Includes ONE 1.8 oz. package of: (1) Sweet Fish, (1) Sour Blast Buddies, (1) Fruity Gummy Bears, (1) Sour Gummy Bears.

Gluten Free, Non-GMO, Plant Based. Dairy free, soy free, and nut free.

Free from Sugar Alcohols and Free from artificial colors

Peanut + Tree Nut Free

"Stevia plant extract may or may not cause a minor spike in glucose level."
SmartSweets Fruity Gummy Bears, Sour Gummy Bears, Sweet Fish, Sour Buddies, Assortment Pack, Low Carb, Low Sugar, 7.2 oz. Total Keto-Friendly, Stevia Sweetened Fruity


SlimFast KETO FAT BOMBS
Contains 14 Individualy wrapped SlimFast KETO Low-Carb Ketogenic Nutrition FAT BOMBS

 Combine the balance of WHEY PROTEIN and COLLAGEN to provide a balance of nutrients for your body to shift the carbs to fat as fuel

Atkins Endulge Treat, Nutty Fudge Brownie Bar, Keto Friendly, 5 Count


ChocZero's Keto Bark, Dark Chocolate Almonds with Sea Salt.
Dark chocolate is good for you, but it's even better when it isn't sweetened with sugar. Sweetened exclusively with monk fruit, our bark uses no sugar alcohols and no artificial sweeteners.

Low carb: only 2g net carbs per serving(1 ounce).

100% stone-ground ​premium cocoa beans ​for a unique creamy texture​.​

All natural, non-GMO, soy free and gluten free. Made proudly in the USA.

ChocZero's Keto Bark, Dark Chocolate Almonds with Sea Salt. Sugar Free, Low Carb. No Sugar Alcohols, No Artificial Sweeteners, All Natural, Non-GMO (2 bags, 6 servings/each)


---
Ideally, you wouldn't be snacking at all. However, the occasional treat isn't going to do you any harm but if you find yourself continually looking to snack there could be a few reasons:
you are not in ketosis, make sure you are tracking what you eat, and not guessing. You could use a meter or strips to check, but often hunger is a sign that you've gone over on your carbs.
your meals are not big enough and you need to eat more at each meal time.
there is not enough fat it your meals. Fat will help you to stay feeling full for longer.
You are thirsty, this can often be confused with feeling hungry
You are bored/stressed/upset. A small snack could help you short term, but if this is a regular issue for you, you may need to think of solutions away from food.
Try to choose whole food snacks where possible and make your snack earn its place in your body by being nutritious as well as tasty.
If you do buy ready-made snacks at the store, make sure you read the labels. The same food from differing suppliers can have very different carb counts. Check for added sugar or grains, even in meat products.
Make sure your snacks keep you within your daily macros or you could see your weight gain stall. Even the food you eat standing up at your kitchen counter counts.
If you know that you're eating enough and you simply feel like a snack, then don't deprive yourself. A well-chosen snack can help you get through to your next meal. Being too strict with yourself has been shown to make it more likely that you'll stray.
Snacks can also be a great way of meeting your fat, protein and carb macros for the day.
Check out the Erythritol sweetner – reviews and uses 2019
The most natural and tastiest way to make sweet snacks without the sugar.
For ready made sweet treats see:
Keto Treats (Sweet and Ready Made)


Click here for the Best Keto Kitchen Gadgets Ever
---